CONTACT US
Panamech Machinery Sdn Bhd
NO.14, LORONG SANGGUL 1C,
BANDAR PUTERI,
41200 KLANG,
SELANGOR DARUL EHSAN,
MALAYSIA.
Tel: 03-51617876/ 03-51618036
Fax: 03-51617136
Email: info@panamech.com.my
Panamech (Penang) Sdn Bhd
SRI RELAU COMPLEX, UNIT 1-3-11,
PERSIARAN BUKIT JAMBUL 1,
11900 PENANG,
MALAYSIA.
Tel: 04-6451635 / 6438266
Fax: 04-6451639
CNC miniFlat Machine 40/80/100
Made in Germany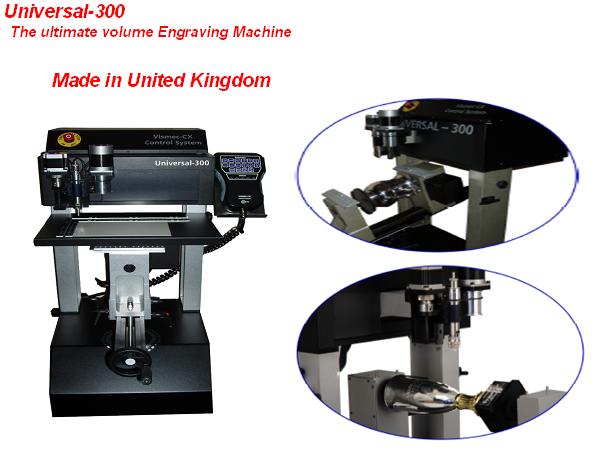 Highlights of Universal-300

Ultimate in versatility
The U-MARQ Universal-300 Engraving Machine, takes over where our Compact leaves off. As well as gifts and personal items, the Universal-300 will engrave large tankards, large glass bowls, brass plaques, aluminum signage multiple badges and much, much more!.
With its all new high quality, high speed spindle which is almost noiseless, itís ideal for the workshop or retail environment. This makes the Universal, the ultimate versatile engraving machine.

Glass
A challenge for a traditional 3-axis engraver, the U-MARQ UNIVERSAL-300 offers unprecedented ease of use. With its true 4-axis functionality, it engraves 360 degrees around large glass bowls, large tankards and any other cylindrical item, which is easily fixed in
the machine.

Cylindrical
The U-MARQ Universal-300 is a true four axis machine, giving the user absolute control over the cylindrical axis. The cylindrical axis can be used to engrave trophies, tankards, glass. Using the unique U-MARQ contour function in our Universal Engraving Software (supplied as standard), conical and curved surfaces are easily coped with. For the Jeweller the addition of the inside and outside ring attachment, makes the Universal-300 the complete engraving solution. In fact the Universal-300 is the Ideal engraving machine for the Trophy Shop, Jeweller or Industrial Marking at an very affordable price.

Improvements and Ease of Use

The U-MARQ UNIVERSAL-300 is a total re-work of the original design, engineered in the UK to the highest mechanical standards. The Universal-300 has seen over 50 improvements in design and operations, these include Vice Clamping, Rotary Gearboxes, Spindle Motor, Lead Screws and many others. These combined now give you a more rugged and lasting production machine.

One of the most exiting upgrades to the Universal-300 is the fitting of the brand new U-MARQ Vismec-CX Control System and version 8 of the U-MARQ Universal Engraving Software. The combination of these two alone make the Universal-300 a totally unique machine. All modifications that have been made to the original Universal are aimed at giving you a faster, more productive, longer lasting engraving machine. Uncluttered and sleek design ensures that engraving on large cups, salvers and swords is as simple as a trophy plate. It is easy to set up and use in any environment, where fast and efficient engraving of single or multiple items are needed.

Equipped with the state-of-the-art and easy to use U-MARQ Universal engraving software, the Universal-300 will connect to a standard PC or laptop. With its unique 4 axes control system, it enables both flat and cylindrical items in the same setup. The U-MARQ Universal engraving software package has the new and unique contour which even enables scanning and automatic vectorisation of logos. The Universal-300 ease of use enables everyone to engrave gifts and jewellery to a professional standard, after just a short introduction.